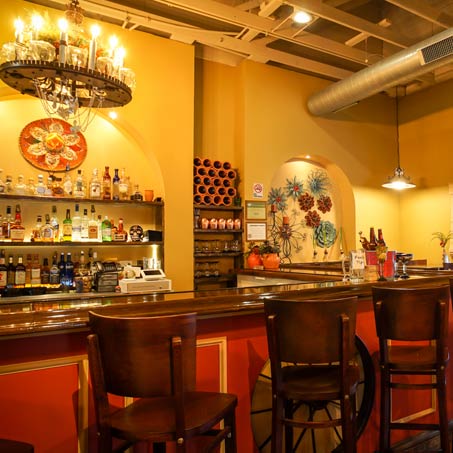 Welcome to

Hacienda

Hacienda El Mirador is the dream of two hard-working individuals who adore the culinary world to pieces. Having recently relocated their restaurant from Chicago to Peoria to enjoy a small, close-knit community vibe, Lucas and Julia strive for nothing but the best.

Lucas brings his passion for cooking native Mexican cuisine into the kitchens of Hacienda El Mirador. Every customer who sits down at a table in the restaurant will try his experienced cooking. At the early age of 8, Lucas' love of all things culinary began to shine through. At age 14, his family moved from Guadalajara to the United States, where his passions naturally grew tenfold. Today, Hacienda El Mirador is the culmination of that love and years of cooking experience.

On the other hand, Julia, who was born and raised in Bolivia until she was 20 years old, always knew of her love for baking. Her passion, combined with that of Lucas', creates a delightful mixture of two unique cuisines. Together, the two became an unstoppable force in the Mexican cuisine world, especially here in Illinois.
At Hacienda El Mirador, you will be treated to the best Mexican cuisine from the country of Mexico. Regular specials allow everyone the opportunity to take advantage of affordably priced appetizers, entrees, and margaritas. You can expect a menu overflowing with flavorful dishes; the very best vegetables, spices, and meats; and flowing salsa with just the right amount of bite!
Whether you're interested in traditional Mexican cuisine or would like an old favorite, such as Tex-Mex, Hacienda El Mirador has dishes that will satisfy your cravings and then some!
Contact Us
Hacienda El Mirador is open from 9 A.M. to 10 P.M. every day of the week. Stop in and let our trained and friendly staff ease your worries. We'll sit you down at a comfortable table, serve chips and salsa to start, and take your order promptly. Mexican cuisine is a journey we can all enjoy together!